In conversation with Cécilia Andrews — Working together during the pandemic, the gallery and Cécilia connected from afar, San Francisco and Paris respectively, surrounding the exhibition, 'Cécilia Andrews: Indivisible Particles,' presented in the spring of 2021. ⁠Here, we have distilled our conversations to feature a selection of Cécilia's answers, comprised of reflections on her artistic trajectory—work, motivation, and experiences—from Chile to France, and somewhere in between. ⁠
1.
My childhood in Chile in the 1970s-80s was beautiful despite the political and social context. I grew up with a lot of freedom and closeness to nature. Early on, I understood that we were living in a special moment in the history of Chile, and that the life we shared with our friends was very politically engaged. ⁠We lived in a community of leftist political activists, intellectuals, and artists. Together and with our families, we built this unique place, created by Fernando Castillo Velasco (winner of the National Prize for Architecture). There were about 21 houses in a large lot where we built a park, planted fruit trees, created games and year-end theater shows. I loved taking part in these activities. ⁠
⁠
Because we were such a strong and friendly community, I lived at home but also stayed in others' houses. It was very safe. We were a bunch of kids spending our time playing with animals and making huts in the park. This was a place that also brought protection to several leftists who were sought by the military dictatorship of Pinochet, those who had fled and were in need of refuge. Unfortunately, some of them were caught and never found again, referred to as the "detained-disappeared."⁠
In summer, we often spent our holidays in Southern Chile with my father's family, my grandmother, uncles, and aunts who loved to spoil us. It was during these long holidays in Patagonia that I began to draw nature and became amazed by its beauty, its presence, and its silence. Throughout these times I had such strong dreams there that I couldn't wait to go back the following year. These moments have never left me, and despite the tragic situation of oppression in which I grew up, it was with nature that I developed great sensitivity and freedom. Surely I found a refuge in nature, too. Today I consider myself very fortunate to have lived this somewhat wild childhood.
2.
My adolescence was a little more difficult. The political situation and the protest environment I grew up in marked my entire youth. In the 17 years of military dictatorship I lived under, I became aware of the cruelty and the tragedy of life under an oppressive regime. Once I graduated from the Fine Arts School, it was impossible for me to stay in Chile without getting involved artistically in a political process. I really wanted to focus on other, more universal issues, such as spirituality, origins, and nature.
I was fascinated by European artists such as Leonardo da Vinci, Paul Klee, Odilon Redon, Henri Matisse, Camille Claudel, Henry Moore, Louise Bourgeois, and a thousand others, and I dreamed of seeing their works up close. I got married very young, and once I had my diploma in my pocket (my husband was already working as an architect), we sold all our wedding gifts so we could pay for two plane tickets to settle in Paris-where the first thing I did was to take lessons with Xavier de Mirbeck on glass blowing, a technique totally unknown in Chile.
Cécilia Andrews, Beyond the Face 3, 2021
3.

This bond (between my life in Chile and France) is interesting. On the one hand, my Chilean culture has given me a greater awareness of the beauty of nature and made me aware of the different fates that human beings have. On the other hand, it was in France that it seemed obvious that I would become an artist, to keep my artistic freedom and realize the importance that culture has in my life.
Because of Chile's history with earthquakes, the relationship of the country towards its history is also very different. Not too many testimonies remain standing, and the government does not have a conservation policy. Also, society is very traditional, and artistic events are not as free and varied. In Europe, it is the opposite. Going to the Louvre, visiting Musée d'Orsay was a shock to me. During my first years in France, I learned more than during all my student years of fine arts in Chile, just by visiting museums and galleries, by going to libraries-and this is still ongoing today.
4.
There are periods when I work solely from my dreams: dreams where I paint, I make paintings, I am in a creative process. From those dreams, I try to draw inspiration from these forms and re-interpret them. Several artists have been inspired by Buddhist philosophy, such as Odilon Redon and Constantin Brâncuși. I sometimes feel identified with this artistic-spiritual interpretation without having looked for it and without wanting to just stop there. Other philosophies also interest me, for example Minimalism with its purified style, even if this movement is sometimes too "mathematical" for me. Symbolism, Arte Povera, and the Italian Transavantgarde also interest me a lot.
Cécilia Andrews, S/T, 2021
5.
A friend who worked at a school for the deaf and mute gave me a Geo magazine, which is a kind of French National Geographic, in Braille. She knew that I like to mix different paper textures of all kinds in my collages. To my surprise, the magazine had no pictures! There were just blank pages full of small raised dots. That made me think, and I started to wonder how the visually impaired described the world, and with what other senses they were able to perceive it. In the case of Braille, it is touch, through tactile writing which allows access to information and learning.
I find that there is a big paradox in being sighted but not being able to read a message intended for the blind. I am very interested in the question of whether as sighted people we are really able to see or understand what surrounds us. The Valentin Haüy Foundation gave me as a donation an old edition of the Larousse encyclopedia in Braille, and since then I have been working on a portrait project made with this paper which symbolizes both our own blindness to meet others and the importance of getting closer to better understand one another.
6.
The complexity of the contrasts has often intrigued me, I find that they often give a certain balance to life. It is a bit like the principle of Yin-Yang or the dual nature of things. The opposing forces are often complementary and we are full of contradictions. I try, maybe more or less unconsciously, to balance these opposing forces in my work. Often I play with rustic, common, and opaque materials like plaster and recycled old paper, in contrast to very smooth and bright materials like resin, glass, bronze, or metallic paper. All this is part of a search for balance.
Nature is really a starting point for me and my artistic reflections, it remains my greatest inspiration, beauty being what moves me the most. Have you ever seen a sunset, exhausted after a long walk in the mountains? Or walked in the forest lulled by the sound of tree branches and the wind? These are simple and primitive emotions that many artists seek to translate into their works. Paul Klee said, "The artist is human; himself nature; part of nature within natural space." I love this idea.⁠
7.
The oval shape has been on my mind for years. I don't deliberately seek it out, it just pops up in front of my eyes in a purely intuitive way. The egg or the oval has a very broad symbolism in almost all cultures. For me, it represents a sacred creative space where nature, spirituality, abstraction, and figuration can converge. This shape makes me dream. Sometimes it is a plant's grain. Sometimes it is a face. The universes and transformations that come from an oval shape can be infinite, and it's fun to dive into all these variants. The oval shape has become the first letter of the alphabet for me, because it links my ideas and becomes the thread of a feeling that I seek to explore in this defined space.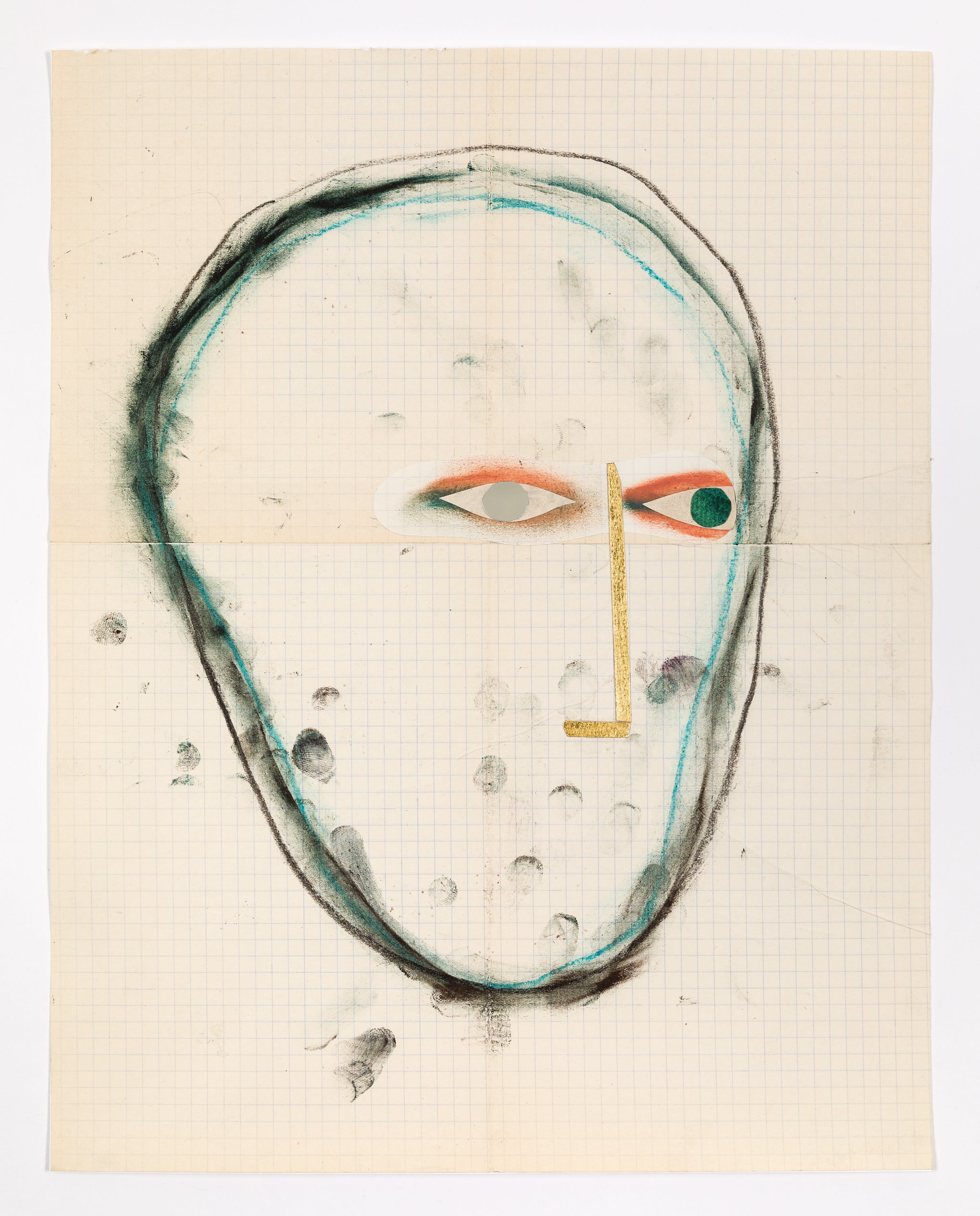 Cécilia Andrews, In Your Eyes, 2021